Mobile Welding Service St. Louis
Do you have a welding project that is too large or can't be moved? Contact Pinnacle Metal Works & Contracting. Our mobile welding services are available during regular business hours and after hours for emergency repairs.
Why Choose Mobile Welding Services?
There are several benefits to using a mobile welding service, including:
Convenience: With a mobile welding service, the welder comes to you, saving you the time and hassle of transporting your equipment or project to a welding shop. This is especially useful for larger or heavier items.
Flexibility: Mobile welders can often work around your schedule, providing on-site welding services when most convenient for you. This can be particularly helpful in emergencies or when deadlines are tight.
Cost-effective: Using a mobile welding service can be more cost-effective than taking your project to a welding shop. Since the welder doesn't have the overhead costs associated with maintaining a physical shop, they may be able to offer more competitive pricing.
Customization: Mobile welders often provide more customized services than traditional welding shops. They can work with you to design and fabricate custom metal structures, repair damaged equipment, or modify existing structures to meet your specific needs.
Quality control: By working with a mobile welder, you have more control over the welding work quality. You can oversee the project and ensure it meets your specifications rather than relying on a welding shop to get it right.
Overall, a mobile welding service can offer several advantages over traditional welding shops, including convenience, flexibility, cost-effectiveness, customization, and quality control.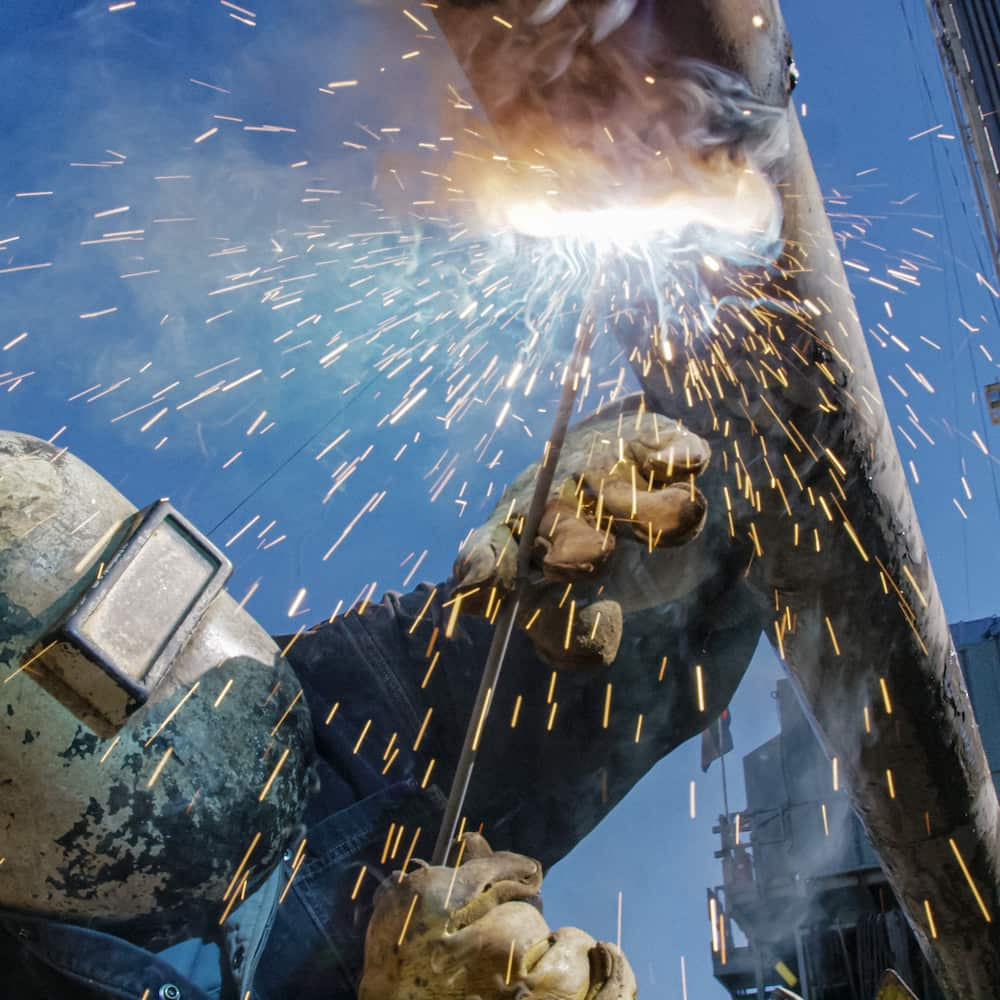 Our Mobile Welding Services
Our mobile welding services include the repair and fabrication of the following:
Structural repair
Home Improvement
Gates and fencing
Handrails
Signs
Furniture
Decorations
Construction
Machine parts
Pipe welding
At Pinnacle Metal Works & Contracting, our welders provide professional and reliable welding services at an affordable price. Our onsite welding services are designed to save you time and money.
Types of Welding
TIG Welding – TIG welding is practical for almost any metal, including specialty alloys and exotic materials. Its precise and controlled application is necessary for precision joints and can be used on virtually any type of metal. When you need to weld a thin, exotic, or expensive piece of metal, your best option is TIG.
MIG Welding – MIG welding can be used on stainless steel, mild steel, aluminum, and thicker metals, from 26-gauge sheet metal to heavy-duty structural steel plates. It can also be used to join dissimilar metals. The process is much faster and more cost-effective.
Arc Welding – Arc welding is used in almost every industry, from home improvement to construction to the aerospace and automotive industries. If you have something damaged or a project left because you don't know who to contact to fix it, let us handle it. Regarding your home or business, we can take on almost any steel or aluminum job in your house, facility, yard, construction site, or vehicle.
If you are interested in our welding services or want to learn more about what we can do for your home or business, contact Pinnacle Metal Works & Contracting.